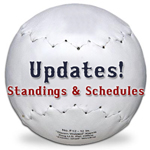 Good afternoon, everybody!
Standings and Schedules (as of May 4, 2014) have been updated and posted to www.jfksoftball.com!
Standings Page: Click here
Schedules Page: Click here
If you should find any errors or omissions to the information posted, please email the commissioner immediately: justforkickssoftball@verizon.net
Thanks again for another great weekend of softball.