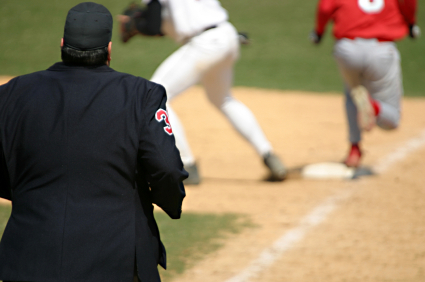 First, we would like to discuss the "Dress Code" for an umpire in the Just for Kicks Softball League. Appearance of a sports official is quite important. It does not matter the sport. First impressions are the most important.
In any endeavor in life looking the part is more than 50% to accomplish the task at hand.
Umpires must look the part when they enter the field of play. They must have the uniform as specified by the league, that is, the proper pants (color), the proper shirt, the proper shoes and a hat. An umpire should have a belt to hold up his pants and have a ball bag attached to the belt to place the game balls and any other pieces of paper as required by the league, such as "the line-up cards" and score sheets which should contain the names of the teams that are playing.
The hat must be worn properly, that is the beak of the hat must be forward, not backwards. Official umpire shirts are to be tucked into the pants not left hanging down to the knees. If shin guards are worn by an umpire they must be worn under the pants legs.
Shorts are permitted during excessive heat days when the temperature is above 85 degrees. If shorts are worn they must be dress shorts not jeans or chino or cargo shorts. If an umpire decides to wear some sort of leg protection when they are wearing shorts, then the soccer style of guards can be worn.
Umpires must adhere to this dress code or be fined when found to be outside the expected dress code.
REMEMBER THAT PERCEPTION IS A REALITY AND IMAGE IS EVERYTHING!!
Below is a self-evaluation check list for all officials.
Appearance – is vital. Wear the appropriate uniform and equipment that is clean and pressed. All officials should be dressed alike.
Arrival Time – to the game. Officials must allow sufficient time for dressing, pre-game and timely ground rules.
Attitude – is always positive. This is regarding your relationship and cooperation with the participants and your partner(s).
Behavior– should be exemplary on and off the field. Be respectful how you act and talk towards fans, players, coaches and partners.
Chatting – between innings with partners should be avoided unless it is vital.
Communication – uses a loud, clear, precise and timely voice to avoid confusion. Screaming does not place anyone in the right. Officials should speak softly.
Conferences – if applicable, they must be brief.
Consistency – of pitches and calls from the first to the last inning is essential. Try as hard as you can to be consistent. That is what all teams are looking for … consistency!
Demeanor – is pleasant when handling confrontations and difficult situations.
Deportment – how do you handle yourself and the victims after missing a call.
Entrance & Exit – to & from the field- must always be with your partner with your heads held high.
Equipment – every game you are required to check to determine if it is legal and functional.
Firmness – of calls vocally and with body language eliminates doubt on the part of the players. Selling the "call" is essential that leaves no doubt in your mind as well as the teams playing.
Game Management – maintains order (housekeeping chores) to keep the game moving along. Making teams hustle in and out is an important part in officiating.
Ground Rules – should be thorough and applied with consistency during the game.
HUSTLE – is an attitude and not an ability. Give yourself the best possible position and angle. Do not have any player, coach or manager tell you that you were out of position.
Intensity – maintains a high level of energy throughout the game. Don't fall asleep on the job.
Mechanics – are to be decisive and crisp. Sometimes call a play several times so that all can see your signals. They may have been looking at the ball during your initial call.
Pre-game – review with your partner the coverage's, signals, mechanics, etc.
Post-game – Make time to go over events and situations with your partners, especially what you could have done better.
Potential Problems – before they become an annoyance handle them efficiently, using preventive umpiring.
Rules – know the rules for the league you are working for that day and apply them correctly, so that there is a level playing field for all. "KNOW THE RULES"
Signals – should be clear and precise.
Sociability – is cordial to all but not over-friendly to offend opposing teams.
Support – helps partner by keeping all others away from him during arguments.
The umpires are required to call the Commissioner at his home number and leave a message as to the results of the game (s) they just completed. They are to give the winning and losing team names as well as the field in which they worked.
All umpire assignments will be made by the league assignor. The league assignor will make all the umpire assignments throughout the season once he has the schedule. The commissioner is not to be called for assignments.
The assignor for this league is Anthony (Tony) Perrelli. He can be reached at 917-566-1010.
~The Commish